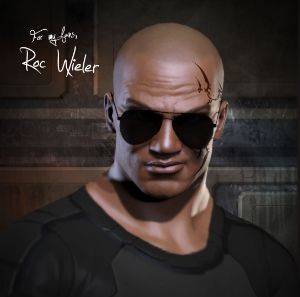 On June 29th at 17:00 EVE time, EVE University will host a live public interview with one of EVE Online's most celebrated personalities, Roc Wieler.  Die-hard Minmatar combat pilot, CSM candidate, and real-life musician and wellness guru, Roc is one of the EVE community's most colorful and interesting people.
You can learn more about Roc on his website: http://www.rocwieler.com – visitors will find some excellent EVE themed music there, plus plenty of other interesting posts about his EVE Online experiences and real-life fitness regimen and recommendations.
The interview will be moderated by UNI Teaching Director, Neville Smit. "I'm delighted to host Roc for this public Q&A session. He is undoubtedly one EVE's more fascinating personalities, and he brings a wealth of experience, both in game and in real life," said Smit. "I'm really looking forward to interviewing Roc and fielding questions from our audience."
This event, sponsored by EVE University, is open to everyone on the UNI's public Mumble server. Use this guide for set-up: http://wiki.eveuniversity.org/Mumble#Very_quick_guide_.28PUBLIC_SERVER.29 – participants should also join the Lecture.E-UNI in-game chat channel, where they can post questions during the discussion.
This event is one of EVE University's ongoing series of guest lectures, bringing different perspectives of noted personalities in EVE Online to all interested capsuleers. Check the EVE University class library for recordings of these guest lectures.