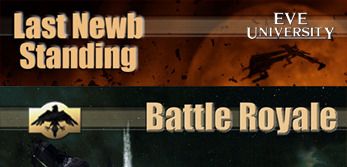 In August, there will be an exciting series of free-for-all tournaments for members of EvE University! If you've never participated in this type of event before, you don't want to miss out. Win or lose, everyone involved is sure to have a lot of fun fighting to be the last man standing!
On August 8th at 02:00 Eve Time, all EvE Univeristy pilots who are approximately six months or younger will have a chance to hone their skills and learn how FFAs work, in the Last Newb Standing frigate tournament.
On August 22nd & 23rd is the big event: a Battle Royale open to ALL members of EvE University. On the first day there will be two fights: frigates and then destroyers. On the second day, the big guns come out: cruisers, and finally battle-cruisers!
Currently, thanks to the generous donations of your fellow E-Uni pilots, the total prizes for all events is somewhere over  billion ISK! That's right. E-i-g-h-t-b-i-l-l-i-o-n! But remember, while the prizes are great they are not our primary goal. The purpose of these events is for all of us to come together as a corp, and have some fun, and participate in something special.
Please click the links above for more details.
Posted on behalf of Jindo Lee